Revolutionary Portable High Pressure Pump System
Now there's a high pressure hydraulic pump system that simply plugs into a wall outlet and doesn't require an air compressor. The eTensifier represents new technology introduced by three industry leaders. The combination of these engineering experts has allowed the design, production and overall maintenance of this hydraulic pump to be superb. These key components include – patent protected motors and controls from Graco, proven hydraulic pumps from Sprague and high pressure components and customer service from High Pressure Equipment.
The eTensifier will deliver pressures up to 36,500 psi with a quiet electric motor allowing an easier impact on its surrounding environment. This high pressure pump also creates a smoother flow rate from zero to full pressure with full control. Another feature that sets this hydraulic pump apart is the inclusion of an industry-first pressure test mode which allows you to set a defined pressure and walk away. The convenience of the features will save you labor time and energy. The eTensifier features a new quick-connect system for exchanging pump lowers to facilitate routine maintenance without taking the whole pump out of commission. Again this pump was designed to cater to efficient and effective performance needs.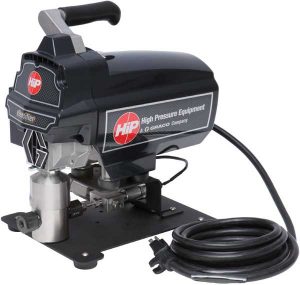 High Pressure Electric Power
Up to 36,500 psi
Needs no air compressor, plugs into wall outlet
Portable, weighs only 46 lbs
3 Industry Leaders Combined Expertise
Designed for Global conditions
Lightweight, portable unit
Integral pressure transducer
Smooth/Quiet Hydraulic/Liquid Intensifier
Smoother flow rate from zero to full pressure
Electric motor quieter than air powered pumps
ProConnect Lower
It is possible to interchange pump lowers within the same pressure transducer range, <10k psi, <30 k psi and >30 k psi
Users MUST make sure their entire pressure system is rated appropriately if changing the capability of pump, including, but not limited to, the burst disk and manifold
Looking for a new hydraulic pressure pump? Let us know what you're looking for and we can help pair the perfect pump for your hydraulic equipment!