Industrial Lubrication Systems
Inadequate lubrication will cause all sorts of problems with your machines, leading to costly downtime and repairs. Items like bushings, bearings, chains, drive, spindles, shafts, or any object incurring friction requires grease or oil to prevent expensive wear and break-downs.
Automatic industrial lubrication systems ensure that all items are properly lubricated. They use less lubricant over manual lubrication, reduce maintenance hours, increase worker safety, and prevent cleanup costs. An automatic lubrication system is a centralized system that can deliver precise amounts of lubricant to multiple locations while the machine is still in operation.
Common System Examples:
Circulating Oil Lubrication Systems
Oil/Air Lubrication Systems
Multi-line and Progressive Lubrication Systems
Dual-line Lubrication Systems
Single-line Lubrication Systems
Chain Lubrication Systems
Hand-Held Lubrication Tools
Industries We Frequently Serve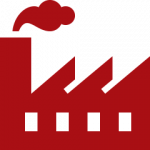 Industrial Manufacturing
Industrial Automation
Machine Builders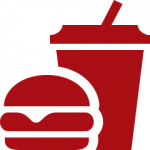 Marine Industry
Food and Beverage Industry
Pulp and Paper Industry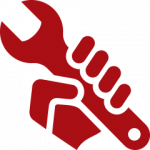 Tool and Die Industry
Aggregate Processing Industry
Metals Industry
Lubrication & Material Dispensing Systems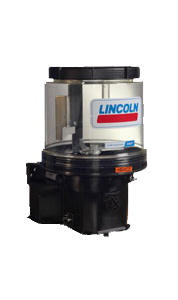 Quicklub (SKF Lincoln)
Quicklub is a progressive plunger system using standard metering valves (6 thru 18-point divider blocks) to equally or proportionally distribute oil or grease lubricant to all machine points requiring lubrication. (Bearings, Rollers, Chain & Sprockets etc.)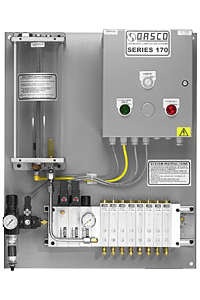 Orsco (SKF Lincoln)
Orsco systems continuously or intermittently spray minute amounts of lubricating oil. The fine spray mist is excellent lubrication for high-speed machine spindles, drag chains or chain conveyors.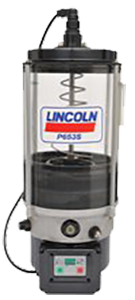 Centromatic (SKF Lincoln)
Centromatic is a larger system to lubricate multiple points simultaneously. Adjustable injectors allow lube grease or oil to be dispensed in the exact amount required for the size bearing being lubricated and also at a lubrication frequency to achieve ultimate performance and bearing life.